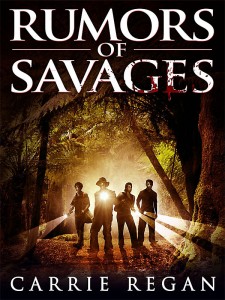 Six months ago, world-renowned anthropologist Lawrence Julian Thompson set off on an expedition into a remote African jungle with one goal: to locate the legendary "lost tribe" of the Bambada and bring back proof that they exist. He wasn't the first.  Countless Western explorers have attempted to track these mythical people over the centuries, and with good reason. The Bambada, legends say, possess not only a vast fortune but the improbably power to read minds and see the future.
Yet they're also rumored to be fierce, bloodthirsty, and hell bent on staying hidden from the world. The evidence speaks for itself:  for centuries, nearly every adventurer who's chased the Bambada–and their treasure–has come to a grisly end in the process.  When Thompson fails to return from his expedition, it appears that the same tragic fate has befallen the esteemed anthropologist.
Meanwhile, in the urban jungle of Manhattan, network executive Bill Warner faces a thorny challenge of his own:  to resurrect his ailing television network, the Adventure Channel . It seems there are only so many programs a viewer can watch about another Everest summit or expedition down the Amazon before interest starts to wane.  Ratings are sagging, and Adventure's owner is threatening to transform the channel into a home shopping haven.  Warner has one last hope.
It's Max Carrington, a rugged old explorer and host of the Adventure Channel's flagship show, Adventure!. If anyone can brave the malaria-ridden jungles of Africa, rescue the missing anthropologist, and bring back a blockbuster that will save the network, it's Max.  Yet with a bad back, demanding young second wife, and critics who think he's out of touch with today's younger audience, the fading star may end up sinking Adventure's ship instead.
Accompanying Max on the adventure is his colorful crew: AJ, the womanizing cameraman; Liz, the under-appreciated, overqualified associate producer who's also AJ's spurned ex-lover; Buddy, the chubby soundman and AJ's sidekick; and Troy, the incompetent producer, recently-minted film school graduate, and, coincidentally, nephew of Adventure's owner.
As the crew battles the disease-infested jungle in search of the missing anthropologist, Adventure's executive producer seizes the opportunity to spin their daily videophone dispatches into the media sensation of the moment.  Instantly, ratings for the Adventure Channel skyrocket.
But when members of Max Carrington's team start disappearing, and evidence emerges that the lives of the entire crew are at risk, the focus of the story shifts, and the media machine turns on itself…