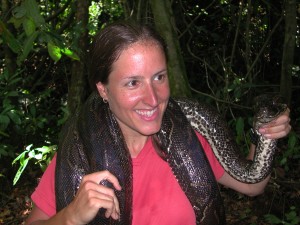 Rumors of Savages was inspired by Carrie Regan's own adventures slashing through rainforests in remote parts of the world to produce documentaries for National Geographic Television. Over the course of a decade, she trekked into distant forests in Tanzania in search of chimps with Jane Goodall, searched for monster pythons in the depths of the Congo, camped in locations ranging from the middle of the Sahara to the flanks of an active Guatemalan volcano, and was part of the crew that tracked down the "Afghan Girl," subject of the famous 1985 National Geographic cover.
She's also served as a Peace Corps volunteer in Guinea, West Africa and a volunteer park ranger at Carlsbad Caverns National Park in New Mexico. An amateur triathlete, she's an Ironman finisher, multiple marathon finisher, and teaches Spinning in her spare time.
A summa cum laude graduate of Boston University's College of Communication, she speaks French, Spanish, Malinké, and a smattering of several other African languages.
Rumors of Savages is her first novel.